Our values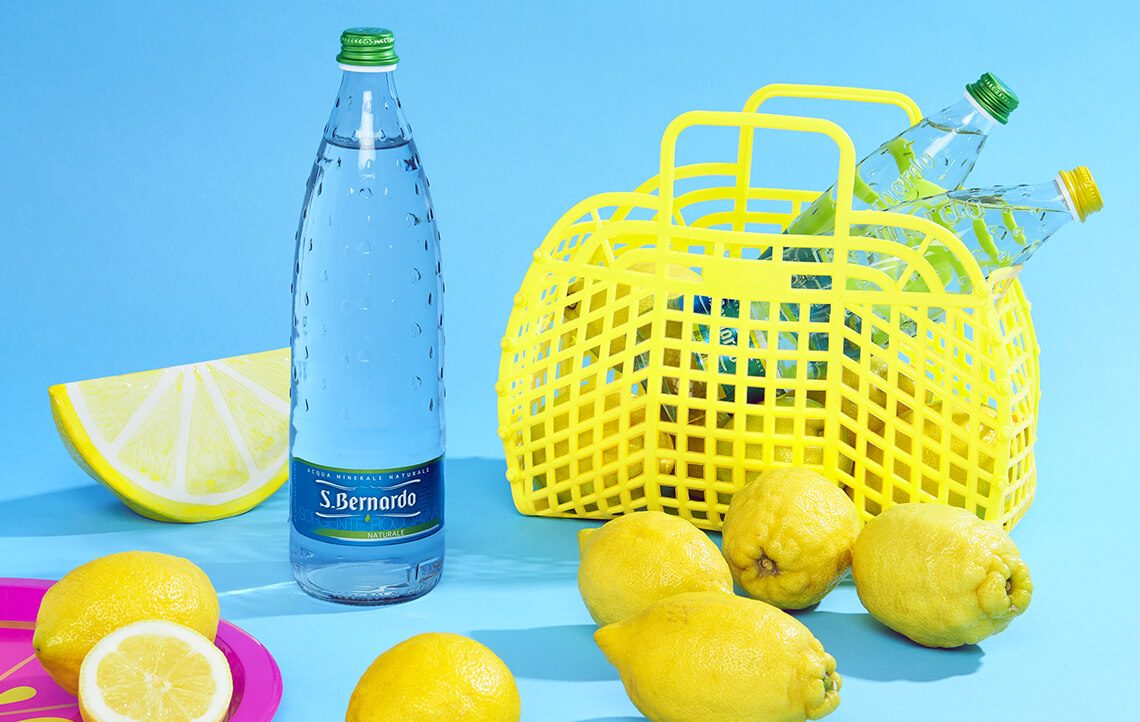 Only nature knows the unique and inimitable recipe for Acqua San Bernardo: since ancient times, San Bernardo has been known as "the miraculous spring of San Bernardo" by locals, the first to benefit from the therapeutic properties of this water and to recognise its particular lightness. Our water is free to run, surge, nourish and nourish itself. It is to nature that we owe our most precious gift. Light, balanced and as pure as the spring from which we draw it, knowledge of the extraordinary qualities of our water has always encouraged us to maintain its properties intact and to reduce our impact on the environment. It is only by doing so that we are able to offer it to current generations and take care of it for the generations to come.
Our commitment
For the activity of bottling spring mineral water as well as blow moulding of containers, San Bernardo S.p.A. pursues the aims of quality and food safety to offer its customer a safe, quality product (delight the consumers). It gives absolute priority to the protection of its employees and colleagues, respects the environment, supports long-term development and is committed to enforcing safety procedures that integrate these aspects. Quality and food safety, occupational health and safety and respect for the environment are fundamental elements of our business and are the responsibility of everyone.
Our commitment includes:
Complete compliance with current legislation.
Continuous reconsideration of aims and goals to support, together with the improvement of performance, aspects of social responsibility, such as the prevention of accidents, the conservation of natural resources, energy saving and pollution prevention.
Encouragement and promotion of employee awareness regarding quality and food safety, occupational health and safety and respect for the environment, by the means of regular training, communication and involvement of employees and external personnel in the pursuit of continual improvement.
Maintenance of certification for Administration Systems in accordance with ISO14001, OHSAS18001.
Maintenance of certification in accordance with the modules BRC and IFS.
This commitment is set out in the Aims and Goals Management Program, to implement the latter San Bernardo commits to guaranteeing the necessary resources and ensures that the Operations Policy is effectively communicated to all its employees, to all interested parties and to the public and is subject to periodic review.
Garessio 26th January 2017
Gianluigi Del Forno

Operations Manager
Policy
01. OCCUPATIONAL HEALTH AND SAFETY ASSESSMENT (OHSAS18001)
Zero accident/injury: to implement our commitment in terms of security, occupational safety and risk, in full compliance with legislation
Identify hazards and adopt the necessary corrective measures to reduce risk to health and safety of the individual. To establish preventive and emergency plans to address residual risk
Educate, train and adequately equip employees to avoid hazardous situations and respond rapidly to unforeseen events, with the aim of developing a security and prevention culture
Ensure that all external collaborators upon entering the facility have access to information and sufficient and appropriate training to be equipped to carry out their work in complete safety
02. QUALITY IMPROVEMENT
Consumer trust and preference: Continual consumer satisfaction and confidence in all our products and services
Total commitment: Quality is a group objective
Food safety and total compliance: We never compromise on food safety and we comply with all legal requirements
Client focus is guaranteed through direct contact with our clients and customers in order to satisfy demand. Ethical responsibility towards staff is constantly guaranteed with ownership changes
Zero defects and waste attitude: commitment to the constant search to excel and not create waste in all that we do
03. RESPECT FOR THE ENVIRONMENT (ISO 14001)
Zero environmental accidents: commitment to the search to always respect the environment by integrating principles, programs and procedures for each activity in every phase of the production process
Use natural resources in an efficient way and reduce waste products
04. FOOD SAFETY
CLIENT FOCUS: Actualize in a timely and flexible fashion projects devised by the Commercial and Marketing Management teams in their role as direct interpreters of consumer needs in terms of quality, service and innovation
To provide products that comply with defined quality standards to guarantee the consumer a high level of service and timely assistance and information in the case of either real or presumed failure to comply: zero complaints
Work on a concept of prevention, identifying and maintaining control of PRP in all areas.